Global CIO's leverage Live Earth as a real-time single pane of glass for core network and customers operations for major telecommunication companies around the world. CIO's are using Live Earth as their "CIO Control Panel" for overall business operations to enable more agile operations by providing real-time visibility, correlation and causality across customers, network operations, and overall risk events.
Live Earth is helping the world's largest telecommunication providers differentiate from regional providers by driving the introduction of next generation technologies across the globe. As a next-generation technology platform for real-time operational observability and controllability of large-scale, dynamic multidimensional enterprises, Live Earth is becoming the enterprise control panel for more than just NOC operations.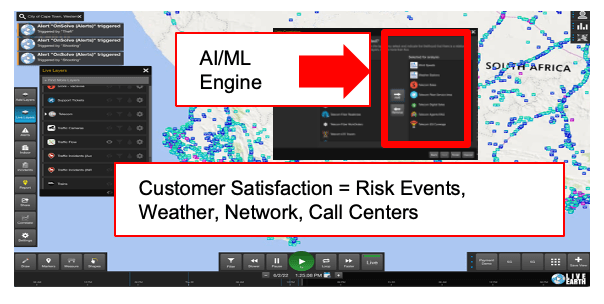 Live Earth handles both legacy environments and enterprises built on the principles of "Industrial Internet", enabling real-time observability and controllability of core network and customer operations. Combining the data sets below, we provide CIO's and their teams peerless insights around their network operations, customer experience, risk events, safety and soundness — on a single pane of glass synchronized in time and space.  
Towers and cell sites locations and their state
Video streams from cell sites and buildings for state and security status
IoT feeds of all kind like diesel status from cell sites, door open/close from data centers, temperature sensors, etc
RAN and core network alerts such as key alarms and performance data, Weather events such as incoming storms, current conditions, Social unrest, vandalism, theft and terrorism events
Power outages
Automobile traffic and customer footfall
Key buildings and status
Customer feedback from Twitter, complaints, etc.
Contact center metrics such as call volumes, ACH, AHT, customer feedback
Other metrics relevant to network operations, customer experience, safety and soundness
Additionally, our AI/ML engine identifies anomalous patterns, correlations, and causality with a real-time observability and control engine. Live Earth is a state-of-the-art No Code streaming platform battle tested in the most demanding mission-oriented theater.
For help in making better business decisions by leveraging disparate data brought into a single pane of glass as your CIO dashboard, Contact Us today. You can also view several videos of Live Earth in multiple use cases at work for some of the world's largest organizations today.